We are so excited to finally be able to reveal our Curious collaborative Hoodwinked Robin 'The Green Heart of the City' (we've nicknamed him Bertie).  Painting Bertie was truly a labour of love and we thoroughly enjoyed being based at the Intu Broadmarsh artists' base and particularly meeting fellow Hoodwinked artists (hey Lois Cordelia, Adam Pekr, Mrs Maker, SMALLKID, sponsors and the Nottingham City Council team who worked so hard behind the scenes.  Members of the public called by on a regular basis, intrigued to observe the artists in action and have a sneaky peak at the army of Hoodwinked Robins ahead of their July launch onto the streets of Nottingham.
We were delighted to attend the launch event for artists and sponsors on 5th July at Nottingham Castle and enjoyed wandering around the 33 Robins all together for the first time, appreciating the fabulous skill, time and effort that has gone into their creation.
In the dead of night, the 33 Hoodwinked Robins were carefully set in place all around our city and on Saturday 7th July, the Hoodwinked Trail was declared to be officially open! Trail maps are available from various points around the city, including the Nottingham Tourist Information Centre and of course, Curious Nottingham!
We are so grateful to our sponsors, Cavalry Design, who have gone beyond their initial sponsorship of the design and have been incredibly supportive throughout the creative process – big love, people!   All of the Hoodwinked Robins will be auctioned at the end of the Hoodwinked Trail and the money raised will be donated to the amazing Nottinghamshire Hospice!
So, here he is, based on the 'Green Man' of legend, celebrating the green heart of our city.  Nottingham's 50 Green Flag designated parks and open spaces are represented in his lacy wings.  All of these fabulous green spaces combine to create essential 'green corridors' to help bees and other pollinating insects navigate their way round our city.  Our Curious? studios at Sneinton Market Avenues and the heritage of the area, including Green's Mill and the fruit and vegetables of the traditional market are depicted at his feet and if you look closely, you can spot a scattering of Notts Rocks (why not paint some Notts Rocks of your own for strangers to discover in our parks?)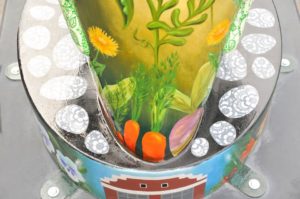 Rest assured, we will be back to chat about Hoodwinked again over the summer (the Hoodwinked Trail lasts until 30th September 2018), not least because lovely Jess painted TWO more Hoodwinked Robins – one sponsored by Gately plc 'Carnival Celebrations' and a specially commissioned one for the Nottinghamshire Hospice Charity, 'Hands of Hope'.  Photos to follow very soon!
Thanks to the fabulous Tracey Whitefoot Photography and Richard of Cavalry Design for these photographs.  Don't forget to follow the Hoodwinked Trail and see if you can spot Bertie on your Hoodwinked adventure!  Happy Hoodwinked hunting!
~ Manton x