Curious? is the working studio of artists, Sarah Manton, Jessica Kemp and Sarah Sewell, where we produce all manner of beautiful and wondrous artworks in paper and textiles.  As well as housing our own artistic practices, we have opened up our Curious? studios to our artistic chums to deliver an enormous variety of artist-led workshops, courses and masterclasses to the public.  Here we are!
Sarah Manton
I've enjoyed creating lovely things all through my life, inspired by my creative hero, my father, Lynn Taylor.  He taught me to be inquisitive, to practice and to enjoy learning (and teaching!)  and when I decided to start my own business in 2011, I knew exactly what I wanted to do!
I specialise as a designer / maker of handcrafted papercuts (scherenschnitte) and lasercut artworks.  I create bespoke handmade papercuts to commemorate weddings, anniversaries and significant birthdays and also portrait pieces of 'heroes' from the worlds of music, film and sport, working to individual commissions.  I also design and make a variety of handbound books, paper-inspired jewellery and soft furnishings.  I have a selection of papercut artworks and greetings cards available to buy through my website and from the Sneinton Market Shop.
Gregarious and infectiously enthusiastic, I have my fingers in many pies!  I am the Vice President of the Nottingham City branch of the Women's Insititute, a passionate urban greener (under the auspices of the Articulture project in the Creative Quarter), Trustee of the Nottingham Open Spaces Forum and a regular contributor on BBC Radio Nottingham and Notts TV.
I live in Gedling with my ever-supportive husband, Terry, son, Tom and two craft-loving cats, Florence and Murphy, who love nothing more than sleeping on open laptops and entangling themselves in any crochet activity.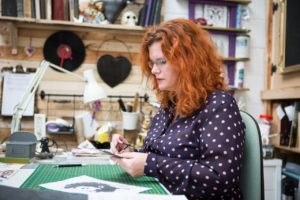 www.thesarahmanton.com
07969 351658
sarah@thesarahmanton.com
Jessica Kemp
A designer maker in textiles and mixed media, Jessica specialises in both large scale theatrical events and small scale decorative items.  Using inspiration from her local environment she uses silks and mixed media to explore the world around us through colour, texture, light and movement.
Jessica is currently enjoying breathing new life into worn and vintage parasols, fans and accessories through hand painted silks and embellishments, creating new and colourful wearables. Sometimes these grow into totally unpractical mixed media sculptural pieces which develop a magical life of their own.
With nearly 20 years' experience of participatory work in a variety of community settings Jessica also continues to work with groups and organisations to creatively enhance local events, festivals and carnivals through celebratory lanterns, costumes, puppets, flags and banners.  She also has occasion to indulge in a bit of prop making from time to time. Some of the more weird and wonderful include weather machines, dragons, a church built from cake, a mountain of spam and a worrying amount of decapitated heads!
With roots in the south coast and rural Shropshire she has lived and worked in Nottinghamshire for the last 24 years.  She lives in creative pandemonium with her very tolerant partner, two daughters, characterful cats and a surprisingly long lived mouse!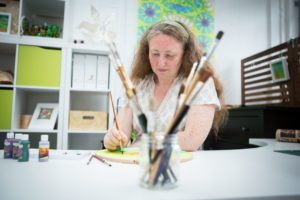 www.facebook.com/JAKintheGreen
07949 831782
Jessicakemp1@ntlworld.com
Sarah Sewell
I started sewing in 2010, having been told at school that I couldn't sew! After studying basic sewing  and mixed media I became fascinated with free-machine embroidery – it is VERY addictive!  I decided to set up my own business and in May 2012 'Wildgoose Designs' was born.
I now work full-time as an artist/workshop tutor based at Curious? in Avenue B, Sneinton Market, sharing a studio with two fellow artists, as well as two workshop spaces from which we run a huge variety of creative workshops and courses.  I enjoy creating framed textile pictures, brooches and lampshades using free-machine embroidery (drawing with my trusty Bernina sewing machine) & appliqué.  My inspiration comes mainly from nature, with birds, bees & butterflies often featuring in my work. Many of my products feature Liberty fabrics.
I also teach workshops in free-machine embroidery, beginners' sewing & lampshade making.
To commission your own artwork or to enquire about workshops, please contact me.

www.wildgoosedesigns.co.uk
07791 213096
wildgoosedesigns@btinternet.com