Well here we are. This will be the first Blog post I've ever written, not something I ever foresaw myself doing, I am after all a visual artist not a wordsmith. I am neither witty, clever nor a deep thinker (or at least in any way that I can articulate) and I am feeling my way through this new artform, so bear with me. I'll mostly be looking at visual stimuli, I can't help myself but hopefully we'll have some fun together along the way.
In terms of Curious and how we three individual artists have been planning, building and settling together into our new studios and creative business it's been a fascinating transformation. I only realised and took time to step back and consider it when I was looking through our Curious images the other day. It made me laugh how much our physical spaces have changed around us in the studios over this last year.
Below is what made me do a double take, how our own work space has grown from a sparse white box to a riot of colour (and at times slight creative confusion!) I love how our personalities peep through with our accumulation of favourite objects and works in progress. In my case I think there's a strong element of 'nesting' involved, a gathering of inspiring tit-bits and pleasing materials which I must now use and not just contemplate!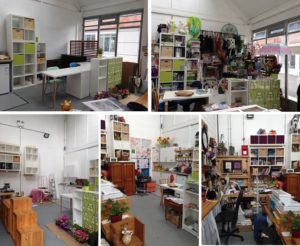 We moved in during early summer of last year and have been shifting things around ever since. There has been much juggling of materials and equipment, sourcing of work tables (fortuitously found in a nearby skip and re-purposed), chairs, coat stands, storage systems and amazing light fittings (as it does get quite atmospherically dark when the sun goes down!) to create two practical but stimulating workshop spaces.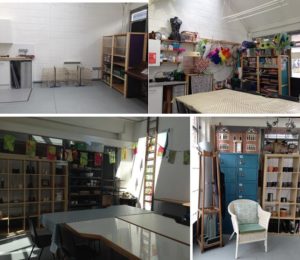 One of the biggest transformations has been in our middle workshop which by default became our main store room for a while. You so easily forget what it was like when moving and just how many boxes and random items you've collected over time that needs sifting though and relocating. We now have a satisfyingly ordered collection of boxes, draws and jars full of magical crafting items along one wall and the cosiest of corners by the windows where people mysteriously disappear to for long quiet spells.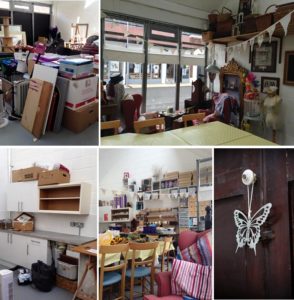 So we find ourselves after our second busy summer taking a moment to breathe, adjust and customise the workshop spaces once more, responding to the increasing range of art and craft activities we're lucky enough to be facilitating through our amazing tutors. With a well-tested practical infrastructure we can finally start adding more 'Curious' touches and along with our growing Curious family, have fun embellishing our new working home.

How things change, and keep changing, creativity never stays still. It feels good to have established a comfortable base from which we can all continue to keep transforming, exploring and learning.
And just keep an eye on me, make sure I'm doing some work and don't just keep adding that extra bit of 'not strictly necessary but oh so wanted creative clutter' to my new found nest.
I'll keep you posted
Jess x