I'll tell you what we're doing 'ere!  Having the cockles of our hearts warmed by lovely strangers (and not so strangers) sending in their 'A Curious Stitch in Time' contributions for our collaborative horologically-inspired patchwork panel!
As you may recall from Jess's blog, we visited the beautiful British Horological Institute Museum in Oxton at their 'Fall Back' open day on 29 October this year. We set a challenge to visitors to the event and subsequently to our The Craft & The Curious drop-in session crew on Tuesday evenings, members of Nottingham City Women's Institute and students on my 55+ Mixed Media Course at Nottingham Playhouse, to render a time-related piece of stitchery on the vintage fabrics we provided.
It continues to be an absolute joy to receive the submissions back both in person and by post (another one has just been pressed into my hand by our Postie, as I type!) … and the inspiration behind these mini artworks is moving, humorous and exciting!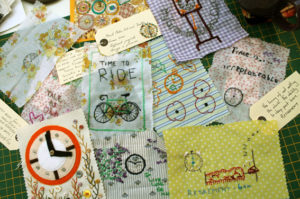 'Time waits for no man, so live, love and be happy' – "Only seems like yesterday since my whole life was ahead of me and now (at 69 years old) looking back, where did those years go?"
'Retirement' – "The luxury of not setting the alarm. The ability to sleep past 6.00am."
'Time to ride' – "I'm optimistic that we are on the cusp of a cycling revolution, moving away from our dependency on other forms of transport. Pump up your tyres and oil your chain… It's TIME TO RIDE!"
It may seem like a small thing, but it renews one's faith in humanity to have promises kept and we are so grateful to everyone who has pledged to create their own 'A Curious Stitch in Time' and will be even more grateful when they pop through the letterbox!  There's still time to take part – you have until 5 December 2017 to return your completed piece – details here… BHI – A Curious Stitch in Time – How To – then we need to start stitching these beauties together to create the finished panel.
Thank you, friends.
~ Manton x