Time is moving on, seasons are flowing one to another and there's a shift of pace. As summer finally succumbs to mists and the golden glow of leaves before a lowering sun Curious got busy digging into pumpkins and delving into a world of clocks.
We spent the Halloween weekend down at Nottingham's Market Square working at the City Council's new event where, along with Artist Annette Waterfield, we helped the public to carve their own splendid pumpkins. There was much scooping of slimy innards, prodding of holes and sawing of shapes to create an amazing array of fantastical carved characters and designs, hopefully all scary enough to see off the Halloween spirits as they slip between our worlds.
After the hustle and bustle of the Halloween Fair our visit to the British Horological Institute at Upton near Southwell, for their Time Lines: Fall Back event, was a very different way of marking the shift in time as the clocks went back. Their collection of timepieces, volunteers knowledge and stunning venue were just wonderful, as was the cake from the adjoining tea rooms! The Museum has been doing great work in opening up the collection to the public through exciting events such as this one which was connected to the National Big Draw project and it was great to see all ages engaging with time keeping in a variety of creative ways.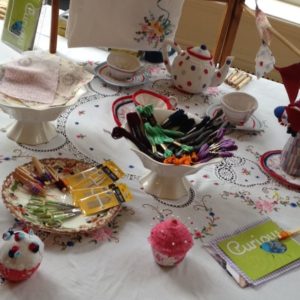 Curious were happy to contribute with 'A Stitch in Time' activity where people could use simple stitches to add time related stories, memories or decorations to a patch of fabric. Once completed these patches will be joined together to create a patchwork of time and returned to the BHI museum for future work. It's not too late to join in with your own stitched time piece (instructions here BHI – A Curious Stitch in Time – How To ) or follow the panel's progress on our Facebook page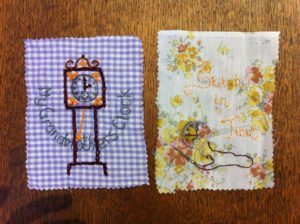 We really enjoyed our time with the pumpkins and clocks, it was good too to pause briefly and enjoy the view out of the big bay window (we could get very used to running activities in a ballroom with the chiming of clocks and succulent cake!) and we'll hold onto that fleeting time slip as we now start building up to the excitement of the coming festive winter season.